June 19th, 2007 |
Games
,
Linux
by th
Part one covered first person shooters on Linux. Blizzard just announced Starcraft 2 for Windows and Macintosh, but how's the strategy gaming on Linux?
Usually strategy games are either real-time strategy or turn-based strategy games, but there are also real-time tactics and turn-based tactics games. So what's the difference between these types?
Real-time, as the name says means actions happen in real-time, the game flow is continuous and player actions shape the game world all the time. For example the enemies might attack while you're building a structure, so the player must be aware of the game happenings all the time. Legendary well-known real time strategy games include Dune, Blizzard's Warcraft and the Starcraft series and the Command and Conquer series. Microsoft's Age of Empires and Age of Mythology are also popular real-time strategy games.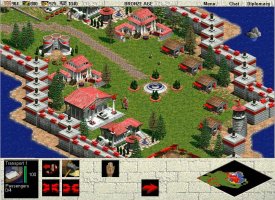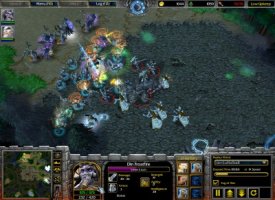 Age of Empire on the left, Warcraft 3 on the right
Turn-based strategy games give the players time to think for their actions, or the players might do the actions in turns, which means the players don't have to be constantly "aware" of the game happenings. Popular turn-based strategy include games like Heroes of Might and Magic 3 and Civilization 3 which both were ported to Linux by Loki Software.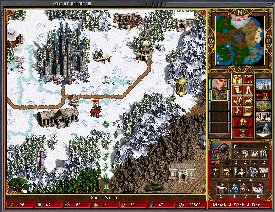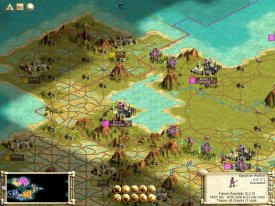 Screenshots of Heroes of Might and Magic 3 and Civilization 3
Real-time tactics usually leave the resource management, economics and building structures in the background, but the combat and the control of the warfare happens in real time. Well-known games in this genre are the Close Combat- series, Warhammer: Dark Omen and Total War.
Turn-based tactics usually have real-time movement in the game world, but the combat is turn-based. Many turn-based tactic games also give the player a predefined army or a character rather than free resource-building like in Warcraft games. Examples of this genre are games like Jagged Alliance (Jagged Alliance 2 was also ported for Linux) and the X-COM series. From classic games, Laser Squad was a popular turn-based tactic in the late 80's.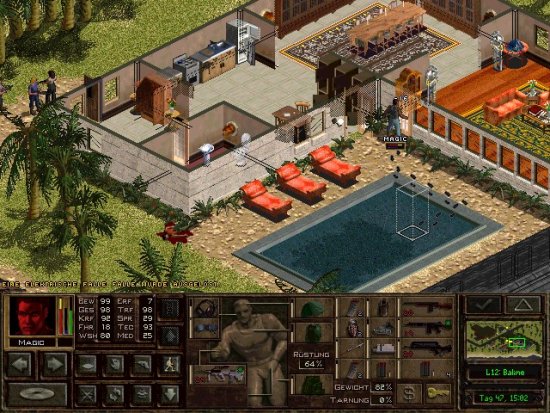 Jagged Alliance 2 running on Linux
UFO: Alien Invasion
Heavily influenced by the well-known X-COM game series, UFO: Alien invasion is undeniably one of the crown jewels of open source games. The game itself is based on modified Quake 2 engine, making it also one of the few games using Quake engines that are not first person shooters, interesting fact in itself. All X-COM fans will definitely notice the similarity to the original UFO games, as the gameplay is very similar to X-COM: UFO Defense. It is a turn-based game where players control a team up to 8 soldiers, attacking against alien ships, terror attacks and other similar scenarios. The game also looks very professional and beautiful, and has quite magical atmosphere, like the original X-COM games. UFO: Alien Invasion is available as free download for Linux and Microsoft Windows. Beta of Mac OS X version is also available. If you ever played and liked X-COM games, this is the game for you, or anyone who likes turn-based strategy games.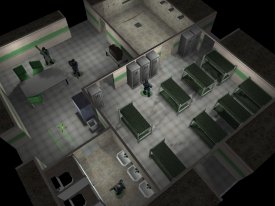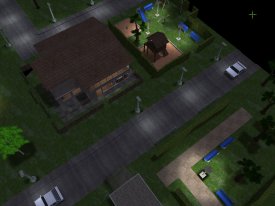 Screenshots of UFO: Alien Invasion
Warcraft 3
Although Warcraft3 is not available for Linux as native version, the game runs surprisingly well on Cedega and is one of the most popular emulated games running on Cedega. Also the expansion set, The Frozen Throne works with Cedega, as does the Battle.net online portion of the game too. Blizzard has traditionally supported Mac platform alongside the PC version, but haven't yet released Linux version of any of their games. Blizzard's popular online MMORPG, World of Warcraft works on Linux with Cedega.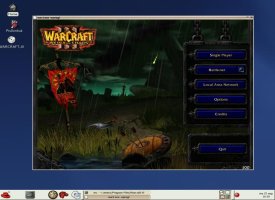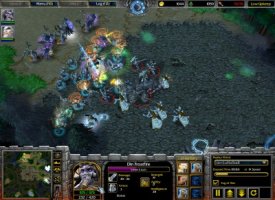 Screenshots of Warcraft 3
Battle for Wesnoth
Battle for Wesnoth is a turn-based open source strategy game with a fantasy theme. The game runs on amazing number of different operating systems (GNU/Linux, Windows, MacOSX, BeOS, Solaris, FreeBSD, OpenBSD, NetBSD, AmigaOS4, OS/2 & eComStation). and has clean and beautiful pixel graphics. It's also translated for 35 languages. The game has more than 200 units, internet play, and much much more. In a nutshell, Battle for Wesnoth is one of the top open source games you shouldn't miss.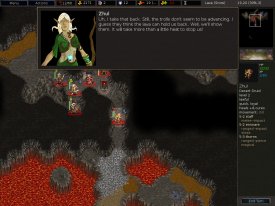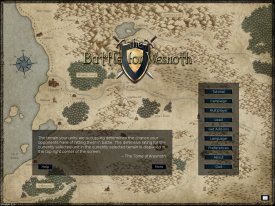 Screenshots of Battle for Wesnoth
Warzone 2100
Warzone 2100 is a real-time strategy game that started its life as propietary game and was released for PC and Playstation in 1999. Nowadays, it's however, free as in beer and free as in freedom, with full source code available. Since it's open sourcing, many advanced features have been added, such as support for high resolutions. Age shows in the game graphics, but it's still nice light-weight strategy game to play, especially if you have an older computer which can't run latest games. Source code and Windows version are available for download at Warzone 2100 homepage, but some Linux-distributions have pre-packaged easily installable versions of Warzone in their repositories, like Ubuntu and Debian (package 'warzone2100′).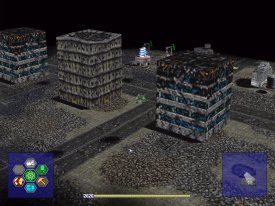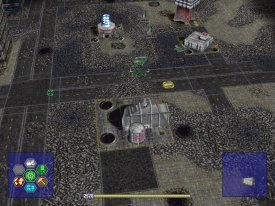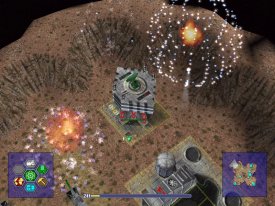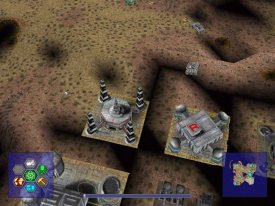 Screenshots of Warzone 2100
Glest
Glest is a free real-time strategy game with sweet 3D graphics. Current version includes single player game against AI controlled players, providing two factions for the player to control: Magic and Tech, each with their corresponding tech trees, units and buildings. Glest takes place in a context which could be compared to that of the pre-renaissance Europe. Even the project supports Linux, they unfortunately don't offer pre-compiled Linux binaries. Linux users must download source code and datafiles from Sourceforge and compile it. The game is still work in progress, but definitely one to keep an eye on.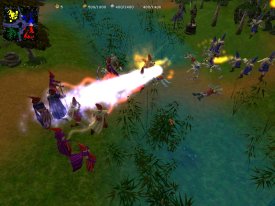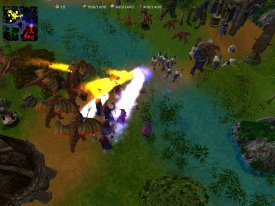 Screenshots of Glest
Globulation 2
Globulation 2 calls itself an innovative real-time strategy game. Indeed, the game idea sounds original. The player chooses the number of units to assign to various tasks, and the units do their best to satisfy the requests. This allows players to manage more units and focus on strategy rather than individual units' jobs. Globulation 2 is a free software under the General Public License and is available for Linux, Mac OS X, FreeBSD and Microsoft Windows.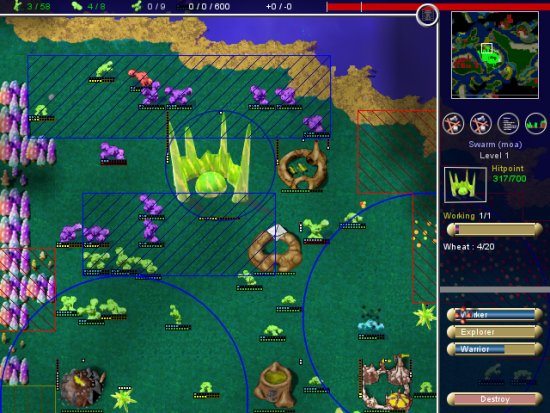 Globulation 2 in action
FreeCiv
Linux also has free multi-player remakes of some classic strategy games. Civilization fans simply can't miss FreeCiv. This beautiful Civilization remake has been in development amazingly long, the project started in 1995. Age shows in the game only positively, as it's very carefully balanced and the beauty is in the details. FreeCiv not only includes translations for 18 languages so players can enjoy it in their native language, the game has more than 50 playable units and far beyond 100 nations.
Screenshot of FreeCiv
Commercial strategy games
There are several commercial strategy games released for Linux along the years. Some well-known games include Myth 2, Civilization 3, Jagged Alliance 2, Robin Hood: The Legend of Sherwood, Heroes of Might and Magic 3. However, even these games are pretty big names, great games in themselves and good quality ports, lately there hasn't been any remarkable releases for Linux. Many popular new Windows games work under Cedega, such as Command & Conquer 3: Tiberium Wars and Civilization 4. You can check the Cedega Game Database for supported strategy games.
Conclusion
Although the strategy game availability on Linux is limited, there are some very impressive open source strategy games that can even challenge commercial games, like UFO: Alien Invasion and Battle for Wesnoth. Along the years, many commercial games have found their way to Linux too, even in limited numbers. Open source strategy games presented here still present only the tip of the iceberg, as there are many other strategy game projects out there for Linux. Happypenguin.org, a fine source for Linux gaming news, alone lists 151 games in the strategy category.
Read also other parts of this article:
Linux gaming, part two: strategy games
Major Companies become conscious of the potential of standard com domain names such as wireless cable.com is a wonderful name. This type of name also helps for developing a fine looking logo design. And particularly if you are offering an online certification like SK0-002 or 156-215; this will help you a lot. You might also need a dial up or backup service.
---
A Reader's Toolbox
A Google search for
webhosting domain
turns up with mammoth number of hosting companies that offer
cheap web hosting
and premium hosting solutions. Quite a lot of companies offer free
domain name registration
with their hosting packages. Increasing number of hosts are offering free credits for
search engine marketing
. Web hosts are making use of
affiliate marketing
to increase sales and brand awareness. Some are offering low cost
web design
service.E.g. Godaddy offers ultra cheap web site designing. If you aspire to launch the next
best image hosting
service look for dedicated hosting solutions.