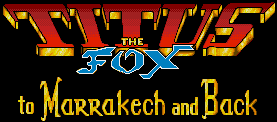 You are visitor 15862 since 20-4-2005

Welcome on this site about Titus the Fox and Moktar.

Titus the Fox is a platform game, made by a french company called Titus. The original version is called Moktar,
and is based on a song by Vincent Lagaf. Because mr. Lagaf isn't that famous outside France,
another version using the company's mascotte, a fox, was created.

A forum about Moktar can be found here, or if you prefer to read a translated version here.

- Jesses
Contact: smacdrek at hotmail dot com

News

---
Thu Mar 22 13:14:08 2007

The secrets guide by Reactor has received some updates! The new version is online now.
---
Tue Dec 19 15:18:29 2006

Reactor kindly provided a list of secrets, so now this list is on the site :-)
Also, I mischievously renamed the SCREENSHOTS section to LEVEL MAPS and LEVELS to NEW LEVELS, since that makes a bit more sense.
---
Mon Dec 18 19:51:30 2006

With the guestbook being abused as a message board lately, a reply feature might be handy, so I just added that.
---
Wed Mar 1 23:11:35 2006

The Prehistorik 2 trainer has vanished! Luckily, there's a new site that holds it now: http://pre2.mine.nu. On this site the level maps for Prehistorik 2 can also be found.
---
Sat Feb 11 00:57:05 2006

I slapped together a Prehistorik 2 trainer, which can be gotten at the download page. It's nothing fancy, just the same old trainer stuff like unlimited health and lives...
---
Sun Jan 29 22:13:46 2006

Version 2.0.2 of MTF is out! It contains mostly small fixes, once again.

As mentioned on the guest book, some of the new levels can be quite hard. The option to start with more lives will be in the next major MTF version, but for now, I'm afraid you have to resort to using the trainer and turn unlimited lives on.
You can start it with "MTF TRN EDIT"; press F6 once you're playing the level.
---
Mon Jan 9 22:15:10 2006

The LEVELS page contains level maps now.
---
Sun Jan 8 10:47:50 2006

MTF 2.0.1 is released, which fixes a nasty copy/paste bug (amongst some other small things).

Besides that, I made a start with the level editing tutorial, which can be found on the MTF DOCS page.
---
Fri Jan 6 22:48:31 2006

There's a new MTF DOCS page, which will explain some of the MTF2.0 stuff. It's not complete yet though.

I also changed the LEVELS page a bit: extensionless files now get a .LVL one, since both IE and Firefox insisted on adding a weird extension when downloading such a file.
Besides that, the level size is now no longer shown in KB, but as the actual tile area of the level (the height is the only thing that influences file size anyway).
---
Thu Jan 5 19:04:02 2006

I made a LEVELS section, which can be used to upload levels you made with the level editor. Coincidentally, the levels can also be downloaded from there.

Since the list was looking a bit empty, I've uploaded the level from the Titus the Fox/Moktar demo, so you can try using MTF 2.0 to play it.
---
Wed Jan 4 08:54:28 2006

Now that this site has appeared at the Wayback Machine, I've added some data that was lost in the crash a while back, mostly in the FAQ section.

Besides that, I managed to find a copy of Titus the Fox trainer 1.0. It's at the download page now, so those historians among you have something to play with.


Oh, and MTF 2.0 is now released, too.
---
Tue Dec 20 21:26:39 2005

Hmm, it appears the guestbook mysteriously stopped working about 3 weeks ago, but now it should work again. Luckily the messages posted were not lost, so I've added them again.

About MTF 2.0 (the level editor), the only thing that's left to do is placement of the enemies, the rest already is completed.
Of course, a level without enemies generally is a bit boring so I haven't released it yet, but that day is quite near!
---
Sun Nov 13 17:00:44 2005

The PC speaker music has returned! But this time it's not alone... Take a look at the music page to find out what's new.
---
Wed Apr 20 23:57:58 2005

The old layout is now back. Some things are still missing but will be restored; only the guest book entries since 14-1-2005 are lost.
---
Tue Apr 12 02:15:00 2005

The site is finally back again after being unreachable for over a week (my harddisk decided to go in early retirement).
Only MTF can be downloaded at the moment, nothing else to see.
---
Sun Feb 13 09:31:17 2005

PC speaker music added to the music page. You'll need some DOS Basic version (like QBasic) to play it.
---
Sat Feb 12 19:31:38 2005

Forcing of pages to be in the frameset is more friendly now. By the way, 1.991 is almost done!
---
Tue Feb 1 13:34:52 2005

Contact page added.
---
Mon Jan 31 08:44:33 2005

FAQ section added.
---
Mon Jan 17 23:34:35 2005

Download page is now a bit nicer.
---
Mon Jan 17 23:13:21 2005

It appears that version 1.99 of Moktar the Fox isn't accepted by Windows 98.
I'm fixing that now, so expect a version 1.991 soon.
---
Mon Jan 17 23:13:20 2005

From now on, news messages will show up here!
---